Leather and Luggage Range
Motor Cycle Luggage panniers, saddlebags, top box, tool rolls, sissybar bags
Motorcycle luggage, sometimes called panniers, saddlebags, top box, tool rolls, sissybar bags, sissy bar luggage, tank bag, Tank pouch, handlebar roll, etc. No Matter what you call it, all our products fit 99% of cruisers including, Harley Davidson, Honda, all Suzuki Boulevard including Suzuki C109 and M109, Yamaha and Kawasaki. Some Victory's.
NOTE: Please scroll down the page to view all items.
Click/tap images to enlarge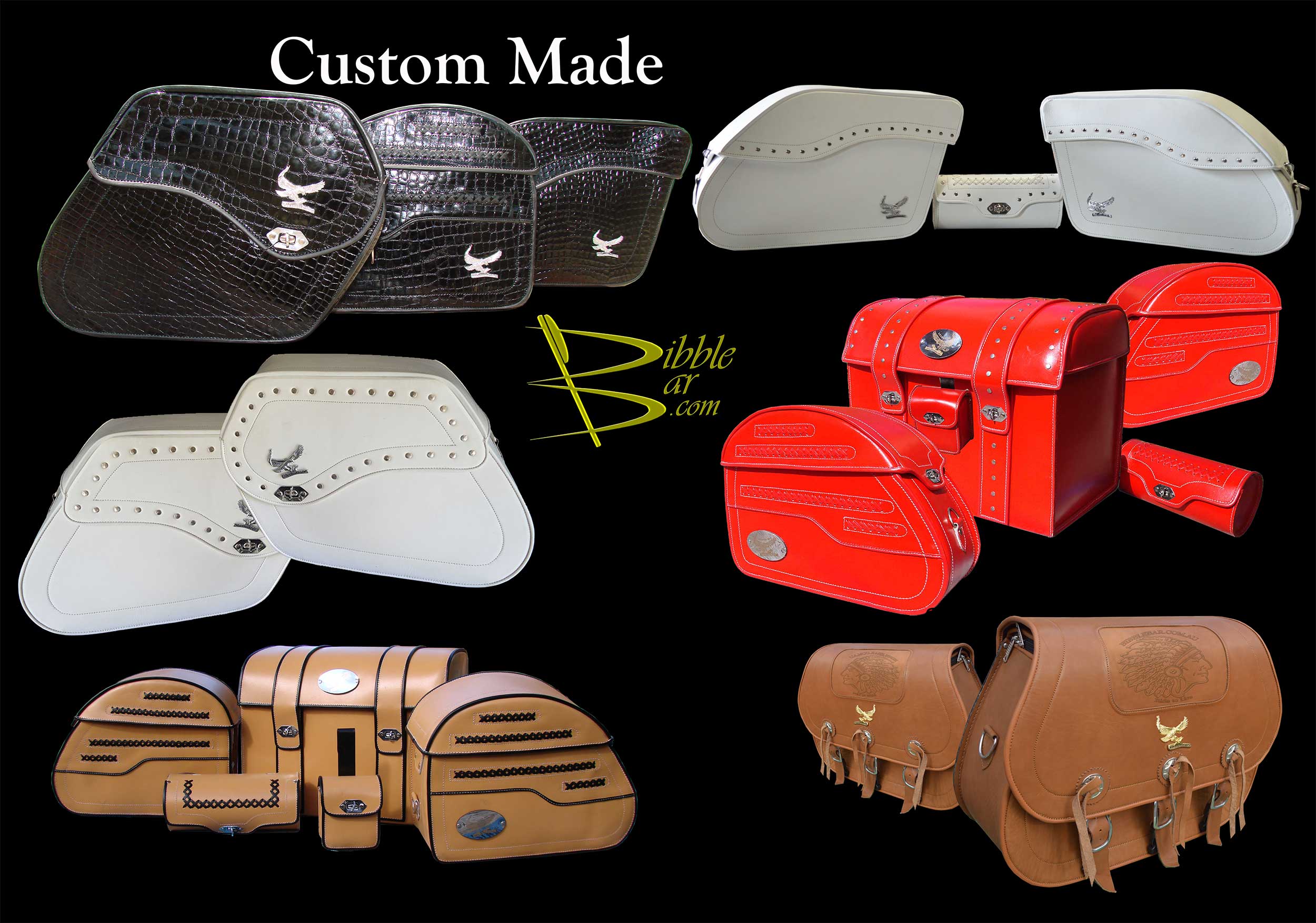 Custom Made Bags
You can have any of our line made to order in any colour or material you wish…… For a one off – Double the price of stock bags. Plus $100 for international Shipping.
Call Joe for custom orders on 0427 943 302
---
The Heritage Saddle Bag Range
The Heritage is our latest, designed for those who like a classic touch. A traditional style saddle bag with some modern touches, like quick release buckles, waterproof zip close that can be locked.
They come in two styles 1. Embossed Eagle or Indian Head
They also come in Tech and Premium Leather.
They also Come in Natural (Tan) or Black.
They also come with a custom Window for personally designed Lasered Plate
View the Video
---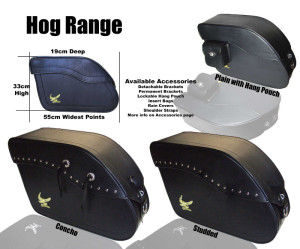 The Hog Saddle Bag Range
These are the latest of our top of the line bags that you will not find anywhere near this price. Like all our bags. They are designed to hold their shape for many years to come. These bags have the largest opening when lid is lifted. Lockable and large.
Be sure to check under the Accessories Tab for support brackets and other bag accessories.
View The Video
---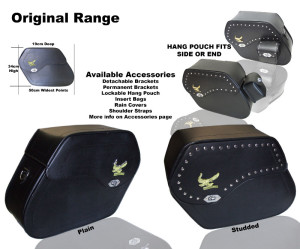 Original Saddle Bag Range
Called original range because these are the first shape we started with and still our most popular. Also available in ¾ size. ¾ Measurements are 37cm wide – 27cm high – 19cm deep Be sure to check under the Accessories Tab for support brackets and other bag accessories.
View the Video
Available studded or plain.
---
Deluxe Range
Called Deluxe because they were the first bag we did in premium leather. These are large capacity and like all our luggage they're lockable. The plain style have a lace design so I guess they are not real plain. This style also come in a mild studded or super studded. The super studded was designed to go with seat studs on the Suzuki C109R.
View the Video
---
---
Chest Style Top Box
The Chest is our latest and greatest Top Box. Volume is 66.4 Litres Easy on and off with the use of two 40mm heavy duty Nylon straps that work the same as your helmet straps. One goes around your backrest while the second goes under your rack to give you a secure mount. Designed to hold and lock up two full size face helmets. Rigid steel frame.
The Mini Chest Volume is 34.5 Litres. They come Studded or Plain.
View the Video
---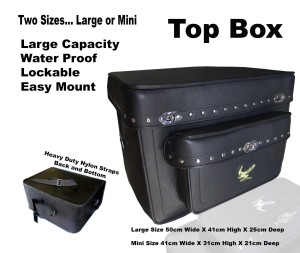 Top Box
We have spent the last six years trying different combination's to come up with the most durable, cost effective product on the market. After many changes, we've done it.
We removed the useless small pockets on the sides to enlarge the main box for 30% more capacity. We made them three inches higher in order to fit more in it. Rigid, Lockable, Sturdy, Easy to put on and take off. Main Box Volume is 51.25 Litres plus front pouch.
View the Video
Available studded or plain.
---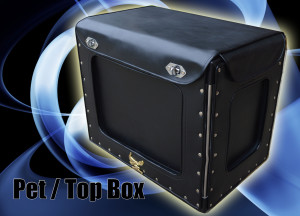 Top Box / Pet Box – $282.00
The clear plexiglass windows can be zipped out and replaced with a solid black window and the lockable lid just rolls up and out as needed. They have a solid alloy frame with padding around the rim and securely fastens to your sissy bar using two heavy duty 35mm nylon straps that go around your backrest and under your luggage rack like all our sissy bar luggage. Needless to say, it's a head spinner and the dog loves it.
View the Video
---
Road Hog Top Box – $397
Here is a Top Box, Sissy Bar Bag designed for the traveller.
Capacity 86.6 litres
Measurements 50x36x37 or 47cm when extended.
4mm thick Alloy Plate bottom assures no sag over edge of rack
Heavy duty mounting straps on back and bottom makes a firm fitting.
Lockable Zippers
4 Nylon Insert Bags included.
---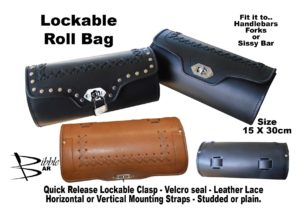 Tool Roll
I had a different make Tool Roll on my bike for two years and never used it. Why? Because it wasn't worth the effort fumbling with the two straps and buckles.Ours are quick and easy to get into and shut. Lockable with a Velcro seal.
View the Video Available studded or plain.
---